In the spirit of Thanksgiving….
The Columbia Water Center has spent the last two years pursuing its commitment to research on global water scarcity, in 15 countries on 5 continents across the world. In this age of extensive social media networks, it seems a daunting task to reach all those who have helped and supported us…. So we offer this post to all of you: to all of our fans on Facebook, our followers on Twitter, our blog and website readers from over 133 different countries.
To all of you, old and new: Thank you.
Alternet.org, a progressive online magazine and website creating and publishing journalism on a variety of topics, began syndicating our blog posts in May, adding them to their special water coverage section. The Special Coverage: Water section, edited by Tara Lohan, has timely and informative articles from a host of different online sources. These stories are often then picked up again by other sources, like Meaghan Daly's article on renewable energy, which was highlighted on Environment Colorado. In addition to Alternet, we have also been syndicated by sites like H2Oreport.
The River Network recently mentioned us on their blog, in connection with Dan Stellar's article on the water-energy nexus. The River Network, an Oregon-based organization, aside from its main work to preserve and clean the nation's fresh water sources, does an impressive job on its blog of culling online news stories that address the connection between water and energy.
We were listed by the India Water Portal as one of the top 30 water blogs. Attorney.org also recently wrote a feature on our blog and organization, and also presented us with the below award.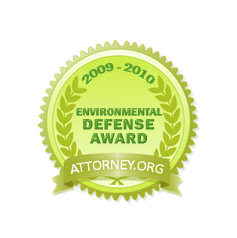 So to Alternet, River Network, H2Oreport, India Water Portal, and Attorney.org, and all of our readers — we are thankful this holiday season for YOU!
Get our newsletter
I'd like to get more stories like this.
---